Filed Under: curators on July 27, 2011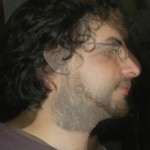 associazione E is a Venice-based non-profit art organisation founded by Francesco Ragazzi and Francesco Urbano in 2004. The two curators combine a philosophical education with a cinematographic approach in order to develop projects founded on listening, gifting, inviting and teaming up. Associazione E conceives exhibitions, festivals, conferences, and workshops as processes of collective production which have the value of both theatrical and therapeutic settings.
Invited in 2008 as fellows of the Cité Internationale des Arts by the Mairie de Paris, the curators subsequently started their own live residency programme – studio dal vivo. After participating in Miltos Manetas 2nd Internet Pavillion for the Venice Biennale, Associazione E is currently curating "A special day", a workshop on queer (LGBT) culture.