DC in "arcipelago italia"
Dolomiti Contemporanee is in Arcipalago Italia, the Italian Pavillion of the 16th Venice's Biennale of Architecture.
On Friday, May 25th, the 16th edition of the Architecture Biennale of Venice, titled "Freespace", was inaugurated. Federica Galloni (Contemporary and Suburban Art General Director and Superintendent of the Italian Pavillion), Paolo Baratta (President of the Biennale of Venezia), Maria Elisabetta Alberti Casellati (Senate President), and Mario Cucinella (Designated Curator) were all in attendance.

The project for the Italian Pavillion, curated by the Architect Mario Cucinella, is called Arcipelago Italia (Eng.: Italian Archipelago), and finds its home at the Tese delle Vergini at the Arsenale.
The exhibit will remain open until November 25th 2018.
Through Arcipelago Italia, Cucinella has carried out an explorative journey, a reconnaissance of Italy's inner areas, placing particular focus on a series of sites and projects, as well as architecture and cultural socialization procedures that involve the territory's participation, and that are always equipped with a vision in regards to the determination of the future of the Human Landscapes, one that presents itself through good practices, actions based on networking strategies, open regenerative process-oriented approaches, and re-innovative ideas which may prove themselves to be capable of responsibly tackling the theme of enhancement and reclaiming of the environmental, landscape-related, cultural and social Heritage.
The sites aren't enough in and of themselves, and there is no future for the Heritage if the people don't operate towards that goal: The future is the product of present actions.

The call for the Italian Pavillion was answered by more than 500 projecs, 67 of which have eventually been selected by the Curator, and find now a home at the tese.

Among them is Dolomiti Contemporanee, inside the Itinerary dedicated to the Eastern Alps.
A great image of Vajont's Mt. Toc (by Isabella Sassi Farìas), sighted from the Nuovo Spazio di Casso, welcomes visitors at the entrance of the Pavillion.
A significant amount of space on the digital devices inside the exhibit is set aside for Progettoborca, the practice of regeneration for the former Eni Village of Corte di Cadore, that DC kickstarted in 2014 together with Minoter in collaboration with the Borca di Cadore Municipality and together with its own many local, national and international partners which are by now more than 500, and that constitute a large, active network, and the real support system of the project.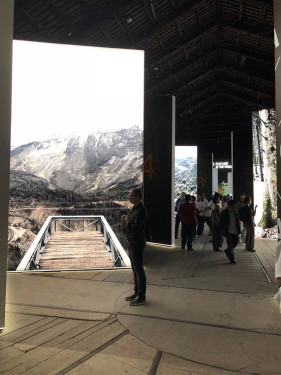 DC's practice is, moveover, highlighted in a Docufilm, titled "The other Space. A journey in Italy's inner areas" produced by SOMEONE Srl Milan, directed by Marcello Pastonesi and Carlo Furgeri Gilbert, that will become part of Rai Cultura's programming.
In the movie, the Curator Cucinella discovers the extraordinary former Eni Village of Borca, its value and its residual potential, and discusses it at lenght with Gianluca D'Incà Levis, creator of Dolomiti Contemporanee.
—
Arcipelago Italia is the theme of the Italian Pavilion at the Biennale of Architecture 2018. It is an idea that shifts architecture's attention away from the major cities and over to the physical space of our country where, even in the most distant past, communities have historically expressed themselves in a different relationship between urban dimension and territory. These territories are spatially and temporally distant from the large urban areas, but they possess a priceless cultural heritage, with unique features that differentiate Italy from the European urban structure, making it possible to identify it as an "urban space in the Mediterranean," as Fernand Braudel described it. The heterogeneous cultural identity of these territories, reflected in the diversification of their landscape, together with a vast territorial width and their distance from essential services, has encouraged us to consider their revival as a strategic theme for Italy as a whole.

Arcipelago Italia. Projects for the future of the Country's inner territories is the title of the project by curator Mario Cucinella for the Italian Pavillion of the 16th International Architecture Exhibit of Venice (May 26th – November 25th 2018) promoted by Contemporary Art and Architecture and suburbs General Direction, MiBACT