June 30th – Brain-tooling opening – monte ricco fort
Brain-tooling
Monte Ricco Fort (Pieve di Cadore, BL) – June 30th – September 30th
opening: Saturday June 30th at 6 PM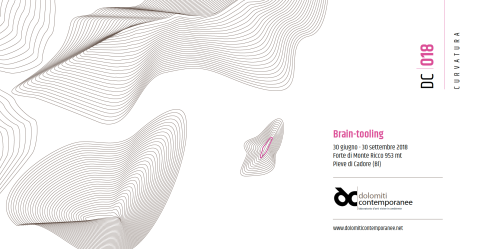 curated by: Gianluca D'Incà Levis, Riccardo Caldura, Petra Cason

artists: Marta Allegri, Michele Bazzana, Andrea Bianconi, Michele Bubacco, T-Yong Chung, Irene Coppola, Ilaria Cuccagna, Fabiano De Martin Topranin, Barbara De Vivi, Hannes Egger, Chiara Enzo, Enej Gala, Andrea Grotto, Evelyn Leveghi, Stefano Moras, Marta Naturale, Penzo e Fiore, Nazzarena Poli Maramotti, Marta Spagnoli, Cristina Treppo, Caterina Erica Shanta, Luka Sirok, Francesco Zanatta, Christian Maunuel Zanon.
—

Brain-tooling is the title of the collective art exhibit with which Dolomiti Contemporanee is equipping the Monte Ricco Fort  – exposing the cracks, surveying nooks and crannies – for summer 2018.
This is a follow-up for Fuocoapaesaggio, the first spreading motion, that in summer 2017 changed, altered the course of this cornerstone of history (removing the patina of the past from this stone, stretching its movements) which, for one hundred years, had remained, still and open wide to the winds and storms, standing tall above Pieve di Cadore, Titian's birth place, as an essential piece of the Cadore's landscape expanding everywhere since forever ago, just like the mountains' shadow stretches in the evening, pushing itself far, far, far away.
As a matter of fact, we'll see, then, how this construction of a mobile plane made of intercephalic holds can be home for Tiziano Contemporaneo, another wide and varied prorgram that is now opening up, striving towards the horizon: but we'll talk about it later, how Brain-tooling and Tiziano Contemporaneo are two coexisting but autonomous cratons, planted in the spaces of the landscape.

—
The Monte Ricco Fort is handled by the Titian and Cadore Area Study Centre Foundation and the non-profit Glasses Museum Foundation, which operate with the foundamental support of the Cariverona Foundation.
—

Brain-tooling: the brain is the main tool of advancement. Of every advancement.
The brain is the tool: it is, however, also the first wall to climb. The brain is already advancement itself, in reality.
Often, talking about difficulties and fears connected to climbing, mountaineers repeat the same trivial truth to themselves: it's all in your mind.
Humans, though, don't climb upwards because their gas is light: they climb despite their weight, when they are determined to search and research.
Researching, advancing, climbing: these aren't perfect ancestral natural instincts, nor mere endocrine reflexes. They are leaps and motions that, when they stretch towards the limit, demand a series of existing resolutions and endowments: institutional, rational, metallic.
Sometimes, as a matter of fact, an illusion of research occurs when, by contrast, there is nothing there but the adrenal pump.
During an advancement (researching, progressing, rising), humans need techniques, tools,  and gear perfected with ingenuity by machines
And the brain isn't a device-utensil: it is the centre of production of adherence (if it is). Adherence is nothing but a maximum concentrated attention, that prevents surfaces from flowing upon themselves, dispersing potential.
Adherence is nothing but a maximum concentrated attention, that prevents surfaces from flowing upon themselves, dispersing potential.

Every building instinct (climbing is measuring the tectonic cathetus: the maximum precision of the on-plate handhold and support is necessary) is born out of a heavy idea: not a convention, from which a stentorian epic of the leap in the Sehnsucht may be drawn.
Against that we place – here comes – the metallic reflection of the nails and hammer, of the spades and crampons (but also of Bernhard's writing, which is another groove in the stone), of the melted and welded irons, whose grabbing surface on the rock is small, minimal, as small as the strong, rigorous grasp needs to be.
It's a precise point, that of the spade-point grip: the holding space is rigorous. And it is in this minimal space of contact that the aleatory nature of the relationship between research and tradition (contact) is made to fit the maximum precision and the strongest, most unambiguous hold. A little like in the synaptic circles' minimal spaces, or in the pre-spatial neuronal cavity, for a maximum hold and relaunching of the electric whip that outfits a body.
The mountain is a solid structure, one that doesn't move, rotate. Just like rocks that stay, that do not tumble. Not an eternal, hieratic posture. Focused, quiet, waiting. Not a premade scene: a gigantic attention, rather, that calls for, and moves, many more.
There it thus, always, someone who answers the call, bringing more attention, tension, care, forward projection.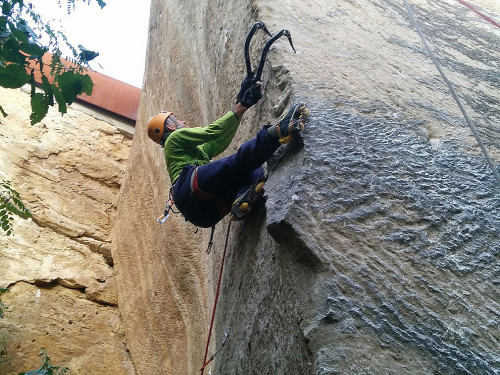 This is what we have always defined as primary attitude of art and culture: while we move to consider the space as meaning for things and possible relationships between authorities, what must be unravelled by orthogonal roots, without bittering the soul, without becoming a mere valve.
We've been talking of cultural mountaineering since forever, and this expression isn't a pleonasm, because it oversees the concurrence of two opposing concepts in regards to how we expressed them. There are actions that, when they aren't a reflection of an unconnected electric cord, unavoidably overlap with thought.
In fixation, there is no thought pinned to the brain.
The brain itself is that thought.
—
Info:
Exhibit opening times:
In July and August, every day between 10.00 AM – 1:00 PM and 3:00PM – 6:30 PM
In September, from Tuesday to Sunday, between 10.00 AM – 1:00 PM and 3:00PM – 6:30 PM
In October, Saturdays and Sundays only, 10.00 AM – 1:00 PM and 3:00PM – 6:00 PM


 —

info@dolomiticontemporanee.net  
press@dolomiticontemporanee.net
www.dolomiticontemporanee.net
www.montericco.it